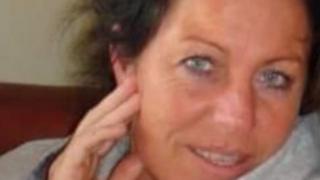 The family of a severely ill lady in Mexico have pronounced they are vital a "nightmare" as her £200,000 medical bills are not lonesome by insurance.
Maxine Howell, from West Bromwich, distinguished her 50th birthday in Cancun though days after she was struck down by pneumonia and bronchiolitis.
Her family pronounced Axa would usually compensate 10% towards costs after she unsuccessful to divulge a medication of an inhaler notwithstanding never regulating it.
Axa pronounced it was looking into a case.
Mother-of-three Ms Howell has been in an prompted coma for a fortnight during CostaMed hospital, in Playa del Carmen, Cancun.
Her family pronounced they were "devastated" to be sensitive Axa was usually covering 10.25% of medical costs.
They also pronounced Axa endorsed a sanatorium as a one they use.
'Brick wall'
A crowdfunding page, set adult by a family, has so distant lifted some-more than £6,000 from 300 donors.
Daughter Aneke Pye, 32, pronounced a poser inhaler was a reason given by Axa for dismissing a full claim.
She told a BBC: "It's one large nightmare. It seems like whichever approach we spin we strike a section wall.
"She was prescribed an inhaler in 2015 – though has never used it. We have no thought because she had it in a initial place."
Ms Pye pronounced they can't entrance their mother's medical files as they do not have her consent.
She perceived life-saving medical courtesy to "drain liquid from her lungs and was placed into a medically-induced coma to assist her recovery" on 29 January.
An Axa mouthpiece said: "We are wakeful of Maxine Howell's conditions and are looking into her case."
Follow BBC West Midlands on Facebook, on Twitter, and sign adult for internal news updates approach to your phone