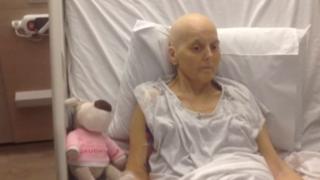 The bereaved family of a helper regularly given a all-clear for cervical cancer are fighting for a wider exploration into her case.
Julie O'Connor, 49, died on 4 February, after her condition was missed several times during Bristol's Southmead Hospital.
Days before her death, she said: "It's outrageous we have been pang a approach we have and we continue to suffer."
North Bristol NHS Trust pronounced an eccentric examination of her caring would start this month.
Mrs O'Connor had a cervical allegation exam in Sep 2014 that came behind as negative.
Doctors during Southmead pronounced she had another condition famous as a cervical ectropion. She was eventually diagnosed 3 years after by a private consultant.
The family sued North Bristol NHS Trust that certified guilt and offering damages.
Her father Kevin, from Thornbury, pronounced he believed other cases of cervical cancer in women might have been missed.
"One of a final things Julie pronounced was that she didn't wish to occur this to anybody else," he said.
"I've asked a coroners if they would cruise an inquiry, not only into Julie's caring though behind to 2014 to be certain this doesn't have to occur to anyone else and if there are other victims."
'Publicly open'
Mr O'Connor pronounced he also had concerns about a hospital's review.
"It's not eccentric since they wrote a terms of reference, a range is really limited.
"They're looking during doing a examination from Jul 2017.
"The private sanatorium lifted a red dwindle in Mar 2017 though this happened in 2014 so we do need to go right behind to when it was misdiagnosed."
The trust's medical executive Dr Chris Burton said: "We are committed to bargain a full resources of a caring we supposing so we can urge a services for a future."
He combined a trust would be "publicly open with a altogether commentary of a eccentric review we have commissioned".