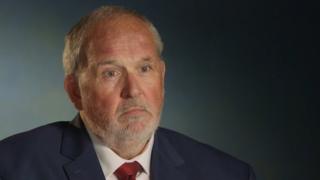 There is "strong" justification to move rapist charges after a deaths of hundreds of patients during Gosport War Memorial Hospital, a investigator who led an review believes.
An exploration in Jun final year found some-more than 450 patients died after being given "dangerous" levels of drugs.
Dr Jane Barton, a GP during a centre of a scandal, prescribed clever opioid painkillers to aged patients.
Hampshire Constabulary formerly investigated a sanatorium 3 times.
No charges have ever been brought.
Many patients who died had been sent to a sanatorium to redeem from operations.
Former Assistant Chief Constable Steve Watts, who led a third and largest review into 94 deaths, told BBC Panorama he believes a justification was adequate to take a box to court.
"I consider it's clever adequate now, we consider it was clever adequate then, and we consider there was an major open seductiveness in doing so," he said.
During a investigations, a Crown Prosecution Service (CPS) looked during probable charges of killing and murder in propinquity to Dr Barton and some nurses who administered a drugs.
However, prosecutors motionless there was not a reasonable possibility of securing convictions.
Mr Watts said: "I knew what a response of a families was going to be, we knew what a response of a open was going to be and we remember articulate to a prosecutors and observant that this will finish adult in a open exploration and eventually we consider a matter will go before a court."
Police in Hampshire handed a box over to their colleagues in Kent and Essex who are now reviewing a justification to confirm if a fourth military review is necessary.
BBC Panorama has examined declare statements given to a progressing military investigations by nurses operative inside a hospital.
They told military they suspicion diamorphine, delivered invariably to patients by a syringe driver, did digest patients' lives.
One auxiliary helper said: "It got to a theatre that each time Dr Barton came to a annexe, we would consider to myself who's going to die now?"
In another statement, a staff helper said: "It seemed that many patients were going on drivers even when they were not in pain."
Another helper pronounced they believed a drug was used "to keep a watchful lists down".
However, former helper Sheelagh Joines, who was sister on Gosport's Daedalus Ward between 1993 and 1997, disagreed.
"As distant as we am endangered Dr Barton didn't digest any lives on my ward," she said.
"They were nursed to a best of my ability and they had what each studious is entitled to – peaceful, pain-free, grace – and we meant cool death."
She combined during one theatre a sentinel felt like a "dumping ground".
"They were sent to us and we were anticipating we could rehabilitate them that we tried.
"But it shortly became apparent they were nursing care, and they had damn good nursing care, though they weren't rehabilitation."
New military examine into sanatorium deaths
Gosport: The numbers behind a scandal
Jane Barton, a alloy who condensed lives
Dr Barton, who declined to comment, was trained by a General Medical Council in 2010 for critical veteran misconduct, though she was not struck off and late shortly after.
She pronounced a consultants in assign knew what she was doing and that she was doing her best in an insufficiently resourced partial of a health service.
Dr Barton also pronounced she was underneath irrational and augmenting vigour and patients were too feeble for rehabilitation.
Panorama: Killed in Hospital can be seen on BBC One on Monday 21 January, during 20:30 GMT.