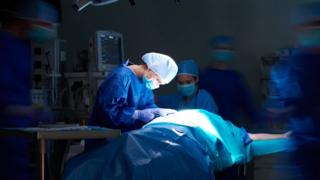 Hostility between surgeons pronounced to have contributed to an increasing genocide rate forced a sanatorium to find mediation.
Inspectors have systematic evident movement to urge a cardiac medicine section during London's St George's University Hospitals NHS Foundation Trust.
Complex heart operations have been changed out of a section given Sep to concede "improvements to be made".
St George's pronounced a "cardiac medicine use is safe, though offer improvements are needed".
The sanatorium carries out about 1,000 cardiac operations each year.
In Aug a leaked request pronounced "toxic" rows between surgeons during a cardiac section contributed to a aloft than normal mankind rate.
'Tribalism and bad behaviour'
A new Care Quality Commission (CQC) news into a unit, formed on an investigation around a same time that request was leaked, has underlined a atmosphere of "hostility" between surgeons.
Top physicians were described as carrying "strong" personalities, and were pronounced to be incompetent to work together effectively.
Culture in a surgical section was described as "tribalism" by one consultant.
Relationships were quickly softened by intervention though shortly returned to "poor behaviour", a news found.
Health Inspectors wrote: "Consultants did not work collaboratively, share shortcoming or solve dispute in a constructive and timely manner.
"Staff did not work together to safeguard smoothness of high-quality, protected and effective services that put patients during a centre."
They conducted a focused investigation of a cardiac medicine section over 3 days in Aug and Sep after concerns were lifted about mankind rates.
The leaked news in a summer by former NHS England emissary medical executive Mike Bewick found a trickery had a cardiac medicine genocide rate of 3.7% – above a inhabitant 2% average.
But a latest information shows mankind rates have softened given that news was published.
Since a examination a Trust pronounced it had taken a series of stairs to brace and urge a service.
Jacqueline Totterdell, arch executive of St George's, said: "The use gifted poignant hurdles progressing this year, and it will be calming to a communities we offer that a CQC has reliable it is safe.
"Of course, this does not change a fact that poignant improvements are compulsory – and poignant swell has been done given a CQC's revisit behind in August.