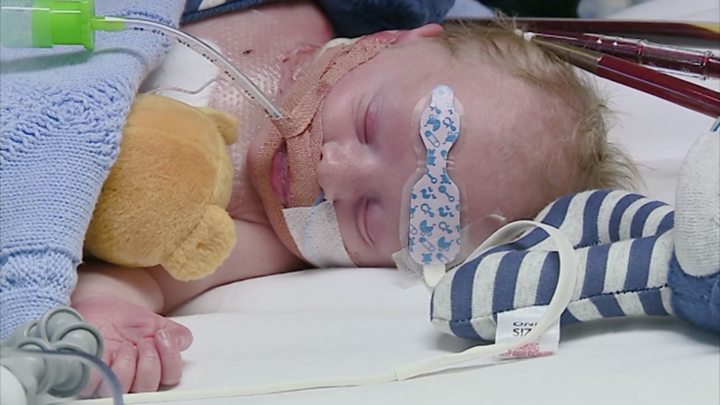 Theresa May has betrothed a health apportion will demeanour into a box of a baby given weeks to live.
Carter Cookson, from South Shields, has suffered 3 cardiac arrests given being innate on Boxing Day and needs a heart transplant within 5 weeks.
Carter's relatives Sarah and Chris set adult a gift in 2013 after their other son, Charlie, died aged two.
Labour MP Emma Lewell-Buck asked a PM to assistance lift "awareness to find a heart for small baby Carter".
Responding to a criticism during Prime Minister's Questions Mrs May pronounced Carter's story was a "tragic case" and she highlighted a new "opt-out" organ concession complement due in 2020.
Speaking to a BBC progressing this week, Chris Cookson spoke of his wife's "courage" to lift another baby after observant "goodbye" to Charlie, who died of an undiagnosed condition separate to Carter's.
His condition caused flesh and bone problems and compromised his defence system.
"It's taken 5 years to even consider about perplexing for another child," Mr Carter said.
He described Carter's illness as being "thrown right behind in a low finish again".
"We've only got to pray… we can get a heart and we can maybe take a son home and have a life that we didn't have with Charlie," he said.
The Charlie Cookson Foundation supports families of children with life-limiting illnesses.
Ms May commended a family for their gift work and pronounced a "sympathies of a whole residence are with a family during this very, really formidable time".
You might also be meddlesome in:
Paupers' funerals cost councils £5.4m
Woman admits £90,000 cancer gift con
Crash killed student and propagandize assistant