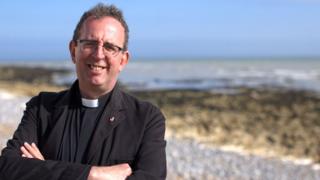 Pop star-turned-vicar a Reverend Richard Coles has credited a mental health sanatorium for saving his life when he was 17.
The former Communards keyboard actor pronounced he was an quadriplegic during St Andrew's Healthcare in Northampton when he had an partial of clinical depression.
Mr Coles pronounced he was entrance to terms with his sexuality and "as a happy male in Kettering in 1978" during a time.
The caring he perceived "literally saved my life", he said.
The former Strictly Come Dancing luminary competitor said: "There unequivocally wasn't most clarity of a life abounding in possibilities.
"It was a most reduction passive universe afterwards than it is currently and that was a genuine struggle. Coming here (St Andrew's) done a large disproportion to me."
Mr Coles, a broadcaster on BBC Radio 4's Saturday Live programme, visited St Andrew's Healthcare as partial of LGBT (Lesbian, Gay, Bisexual and Transgender) History Month.
He pronounced a caring he perceived from dual psychiatrists there helped put a stop to "all that internalised self-loathing" and gave him a clarity that "this is an temperament that's not indispensably a disastrous identity".
"I became determined, we wasn't going to live a narrow, meant and compelled life that was a best on offer.
"And we ran divided to London and shaped a new life and became an activist," he said.
Through entrance to media and song he pronounced he "caught that rising waves of change".
Mr Coles was consecrated into a Anglican ecclesiastics in 2005 and is a vicar of Finedon in Northamptonshire.