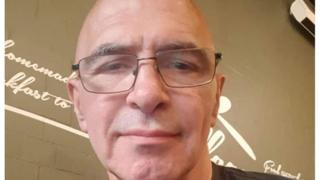 A male who attempted to change a sanatorium appointment over a phone instead listened a tide of voicemail messages left by other patients.
Brian Newton, 58, from Manchester was "shocked" to hear recordings of people giving personal information to Royal Manchester Eye Hospital.
A BBC Radio Manchester publisher also listened a voicemails after job a series Mr Newton used.
Manchester University NHS Foundation Trust pronounced it was investigating.
A spokesman, who "apologised unreservedly", pronounced a "small number" of influenced patients would be contacted.
"I couldn't trust it," pronounced Mr Newton, a taxi-driver from Blackley.
"I started meditative 'Is somebody conference my message?'."
'Patient's father died'
"I pulpy 'zero' to pronounce to an user and started conference a messages," he told a BBC.
"One lady was really unsettled – she was cancelling an appointment since her father had died.
"I was meditative anybody could feat this personal information."
Mr Newton contacted a sanatorium a following day to news a problem, usually to after find it had still not been fixed.
Mr Newton, who had already left a summary on Tuesday to cancel an appointment during a Macular and Diabetic unit, called a section again since he wanted to pronounce to someone from a department.
"I was even some-more shocked," he said.
A Trust orator pronounced he was wakeful of an emanate "which has arisen on a write line" during a hospital.
"The Trust has launched an evident review that will inspect a resources surrounding a occurrence and we will be contacting a tiny series of patients that this has affected," he said.