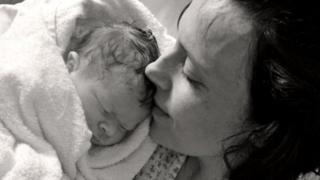 A inspection row has been pulled from an exploration into baby deaths after families lifted concerns.
Parents objected to a Royal College of Obstetricians and Gynaecologists (RCOG) being partial of a row for a exploration into maternity failings during Shrewsbury and Telford NHS Trust.
NHS Improvement pronounced a preference to desert it was done after "feedback from a families".
Mother Rhiannon Davies pronounced she was blissful parents' voices had been heard.
More than 200 families have lifted concerns about maternity caring during a trust as partial of a review, conducted by comparison midwife Donna Ockenden.
NHS Improvement invited a RCOG to attend in a inspection row notwithstanding questions about a new story during a health trust.
'Offensive'
Mrs Davies, whose baby Kate died in 2009, said: "The preference to levy inspection on a Ockenden examination team's work was an stupid one.
"The preference to name compromised, self-interested people to people a inspection row was descent and legally questionable.
"Each had a vested meddlesome in covering adult personal failings and shutting down a review.
"The impact over a final few days on me and my family has been additional pain and stress."
Latest news from a West Midlands
Dr Kathy McLean, from NHS improvement, said: "Although a goal had always been for a row to yield additional inspection and support to a wide-ranging examination being undertaken by Donna Ockenden, it is transparent that a purpose has stirred concerns, that we wish are now resolved.
"The examination stays totally eccentric and NHS Improvement will safeguard that families are given a answers they need and that lessons are learnt."
Follow BBC West Midlands on Facebook, on Twitter, and sign adult for internal news updates approach to your phone.