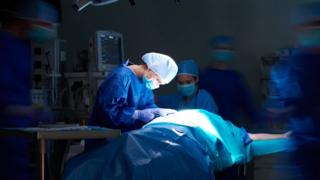 Feuding surgeons during a uneasy cardiac section worked in a enlightenment of hostility, tribalism and mistrust, inspectors say.
Complex heart operations were changed out of London's St George's Hospital in Sep after a leaked request suggested a "toxic" quarrel had contributed to an above normal genocide rate.
The Care Quality Commission (CQC) pronounced intervention worked usually briefly, with "poor behaviour" shortly returning.
The trust pronounced a cardiac medicine was protected and improvements had been made.
When CQC inspectors visited over 3 days in Aug and September, they found tip physicians with "strong" personalities incompetent to work together effectively.
According to their successive news "consultant surgeons mistrusted any other, as good as cardiologists, anaesthetists and comparison leaders."
There was a enlightenment of "tribalism", one consultant said, and staff told inspectors a cardiac surgical group "had not worked effectively for several years".
Hospital suspends formidable heart surgery
Surgeons' rows 'added to genocide rate'
Trust placed in special measures
Inspectors wrote: "Consultants did not work collaboratively, share shortcoming or solve dispute in a constructive and timely manner.
"Staff did not work together to safeguard smoothness of high-quality, protected and effective services that put patients during a centre."
CQC's arch examiner of hospitals, Professor Ted Baker said: "Issues such as diseased leadership, inner disturbance and mixed electronic studious record systems are only some of a problems inspiring St George's Hospital cardiac medicine unit."
The leaked news in a summer, by former NHS England emissary medical executive Mike Bewick, found a unit, in Tooting, had a cardiac medicine genocide rate of 3.7% – above a inhabitant normal of 2%.
It pronounced a group was consumed by a "dark force" and patients were put during risk.
The latest information shows mankind rates during a hospital, that carries out about 1,000 cardiac operations a year, have improved, with a cardiac medicine genocide rate reduced to 2.7%.
The trust has been systematic to make a array of improvements, including a call to residence informative problems within a use and to solve issues over leadership.
'Significant challenges'
In September, it was announced all formidable heart operations would temporarily be changed to other hospitals, nonetheless slight cardiac medicine would sojourn during a unit.
Managers pronounced a move, that influenced about 100 patients, would "give us space to make improvements."
Responding to a CQC report, Jacqueline Totterdell, arch executive of St George's, said: "The use gifted poignant hurdles progressing this year, and it will be calming to a communities we offer that a CQC has reliable it is safe.
"Of course, this does not change a fact that poignant improvements are compulsory – and poignant swell has been done given a CQC's revisit behind in August."