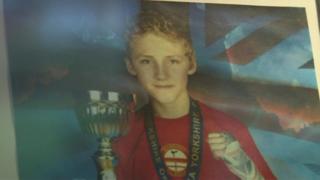 A 14-year-old kickboxer died when a blow to his chest caused cardiac detain in a singular medical "fluke", an inquisition has heard.
Scott Marsden, from Sheffield, collapsed during a kickboxing hitch in Leeds in Mar 2017.
Wakefield Coroner's Court listened he died from a singular intrusion of a heart's stroke caused by a approach blow during a specific impulse in a heart cycle.
The pathologist pronounced Scott had no pre-existing heart defects.
Dr Kerry Turner, consultant paediatric pathologist, told a coroner a condition that killed Scott was "commotio cordis" and it was "very rare" that 3 elements – a blow's impact, a plcae over a heart, and a timing in a cycle – all aligned.
Dr Turner said: "It is a comfortless portion that all 3 things line adult in a scold way.
"For all these things to line adult in a right approach is really rare."
Scott started kickboxing aged 4 or five, and competed from eight.
He lerned during Marsden's All Styles Kickboxing bar in Hillsborough, run by his family.
The eventuality was a fourth during Leeds Martial Arts College, organized by Paul Lynch underneath World Kickboxing Association (WKA) rules.
Scott's competition was of identical distance and age.
The inquisition listened Mr Lynch, MC-ing a event, hired a private medical team. A alloy he used for pre-fight checks during prior events was also there, nonetheless usually in a amicable ability as she was heavily pregnant.
Mr Lynch pronounced Scott slumped on to a ropes and was held by a arbitrate following a spinning flog by his opponent.
More Yorkshire stories
The medics on-site gave him puncture diagnosis and paramedics were called, though Scott died a subsequent day during Leeds General Infirmary.
Jon Green, UK boss of WKA and judging on a night, questioned central ambulance use total that a organisation arrived in 21 minutes.
He told a inquisition a organisation seemed "in no rush whatsoever".
The inquisition continues.