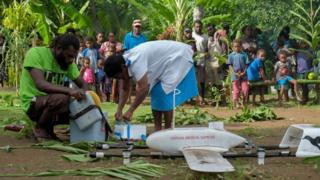 A baby on a tiny Pacific island has turn a initial chairman given a vaccine delivered by a blurb drone.
Unicef organised for a worker to be flown some 40km (25 miles) opposite imperishable plateau in Vanuatu that differently take hours to cross.
About 20% of children in Vanuatu don't accept critical vaccinations since a supply is too difficult.
The UN children's organization hopes that worker smoothness will in destiny be of critical significance in remote areas.
"Today's tiny moody by worker is a large jump for tellurian health," Unicef executive executive Henrietta Fore said.
"With a universe still struggling to immunize a hardest to strech children, worker technologies can be a diversion changer for bridging that final mile to strech each child."
While drones have been used before to broach medicine, Unicef says this was a initial time globally that a nation had engaged a blurb worker association to get vaccines to remote areas.
Two companies competed for a plan on Vanuatu, and it was Australia's Swoop Aero that won a bid after successful trials progressing this month.
Skip Twitter post by @UNICEFPacific
End of Twitter post by @UNICEFPacific
Its worker carried a vaccines in a styrofoam box with ice packs and a heat logger to a remote encampment on a island of Erromango, from Dillon's Bay on a west of a island to Cook's Bay on a east.
The medicine was afterwards used by internal helper Miriam Nampil to immunize 13 children and 5 profound women.
Without a drone, Cook's Bay is usually permitted on feet or by vessel – both those options take hours compared to a 25 mins it took for a worker to strech a village.
Medical reserve also have to be kept during a cold temperature.
"It's intensely tough to lift ice boxes to keep a vaccines cold while walking opposite rivers, mountains, by a rain, opposite hilly ledges," Ms Nampil said.
"As a tour is mostly prolonged and difficult, we can usually go there once a month to immunize children. But now, with these drones, we can wish to strech many some-more children in a remotest areas of a island."